Hines (developer) / Pickard Chilton (architect)
609 Main at Texas is a 48-story, 1,073,075-square-foot office tower at the corner of Main and Texas in downtown Houston. Designed by Pickard Chilton, the project's north and south façade extend skyward, culminating in a dramatic diagonal crown, creating a new, highly visible downtown landmark. The narrower east and west façades are slightly recessed, and the subtly faceted exterior façade is clad in floor-to-ceiling glass with brushed-stainless-steel accents. Vertical blades are incorporated in the east and west façades, offering solar shading. Computer-controlled LED illumination within the east and west recesses, and the tower's sloped crown accentuate 609 Main's presence on the nighttime skyline. Parking for 1,700 cars is provided in an internal 13-level garage (11 above-grade and two below-grade floors).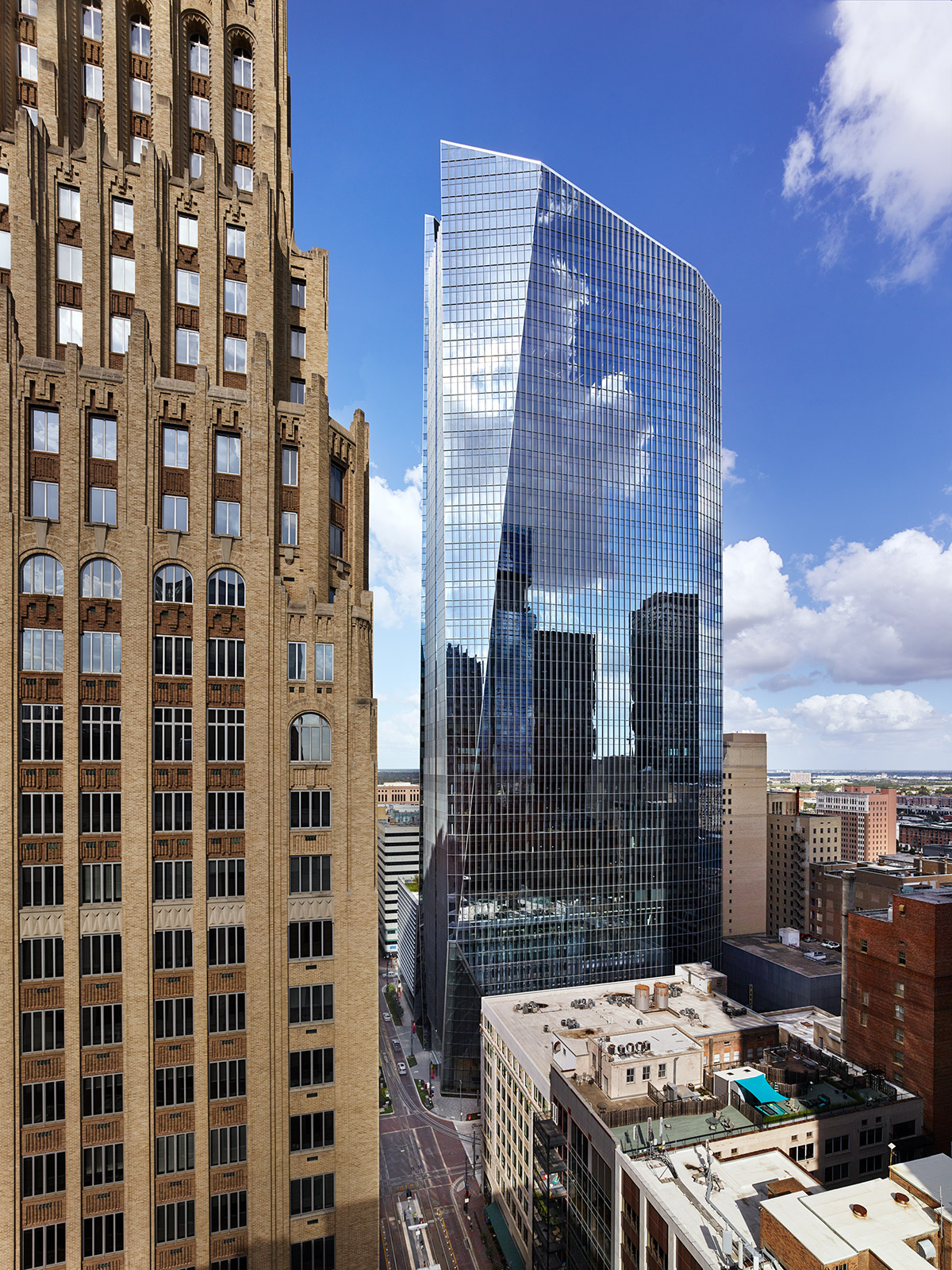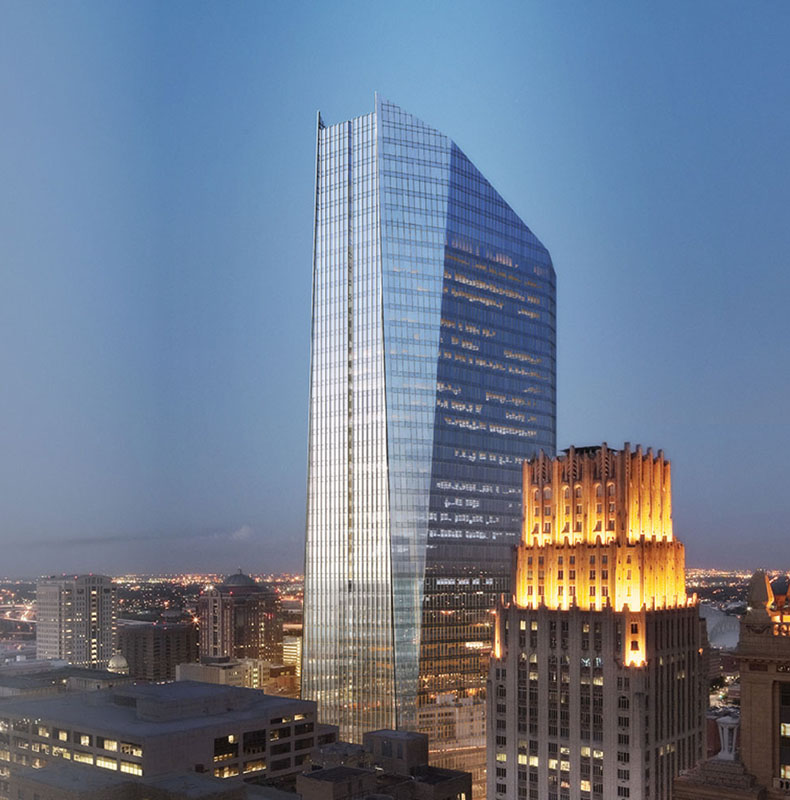 Crescent (developer) / Pelli Clarke Pelli Architects (architect)
McKinney & Olive is a one-of-a-kind, 20-story structure, designed by world-renowned architect Cesar Pelli and owned by Crescent Real Estate, offering world-class architecture, premier office space and exclusive restaurant and retail in the vibrant, pedestrian-oriented neighborhood of Uptown Dallas. Located near downtown's Dallas Arts District and Klyde Warren Park, and directly across from the Ritz-Carlton Hotel and Residences, Dallas, its distinctive geometric design features a sheer glass façade and stands as the tallest building in Uptown.
Adding to the striking architecture, McKinney & Olive offers 486,000 square feet of Class A+ office space that includes the latest building innovation and technology. Customers enjoy high-efficiency floor plates, 10-foot ceiling heights with floor-to-ceiling clear glass, state-of-the-art security, destination elevators, and unmatched amenities including an outdoor terrace, conference center, Canyon Ranch-designed fitness studio, Wi-Fi in all common areas and the landscaped one-acre Piazza.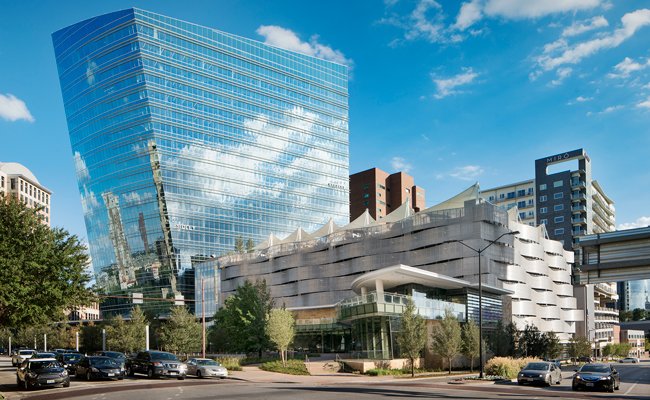 Ryan (developer) / STG Design (architect)
The Oracle Waterfront campus, located in Austin, Texas and developed along Lady Bird Lake overlooking downtown Austin, allows Oracle to expand its Austin team and continue to expand the Oracle cloud service. Phase 1 and phase 2 of the corporate campus includes 1,000,000-square-feet of building space, 3,000 car free-standing parking garage, and 270-car below-building parking.
The state-of-the-art campus provides coffee bars, cafeterias, restaurants, game rooms, fitness centers and a terrace the length of a football field overlooking downtown and Lady Bird Lake for employees. The live-work-play campus will also provide affordable house. The project is intended to achieve a LEED Gold certification.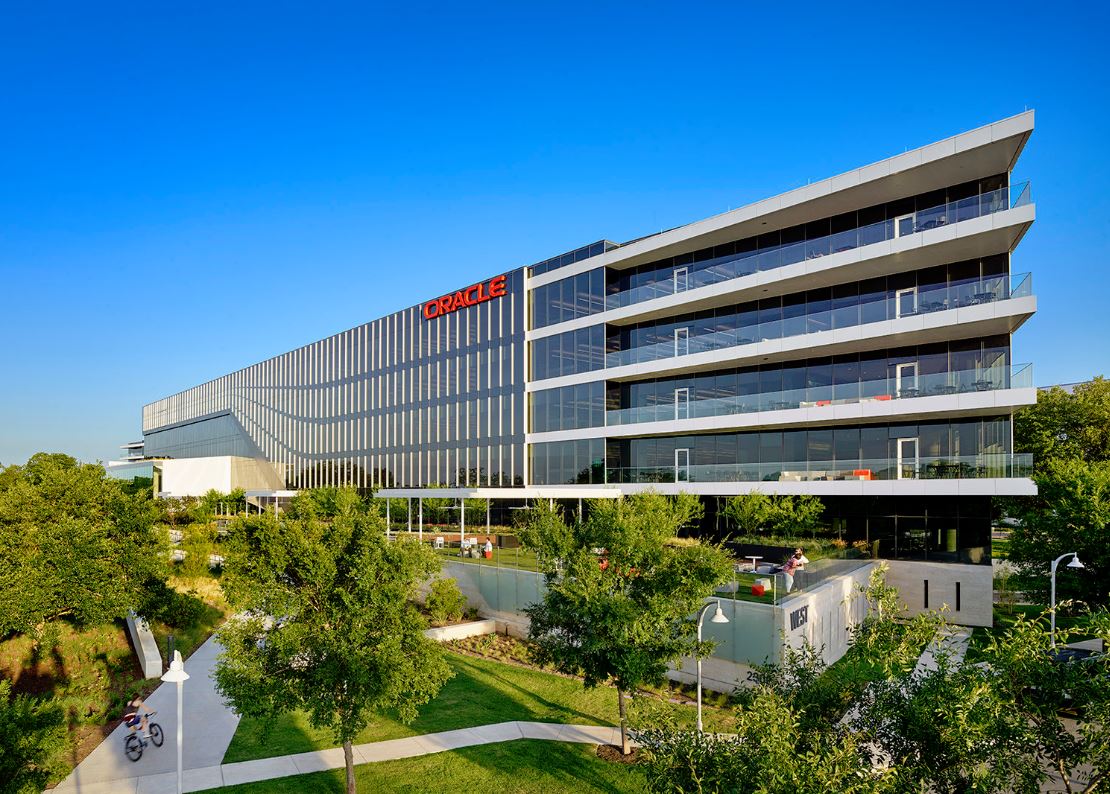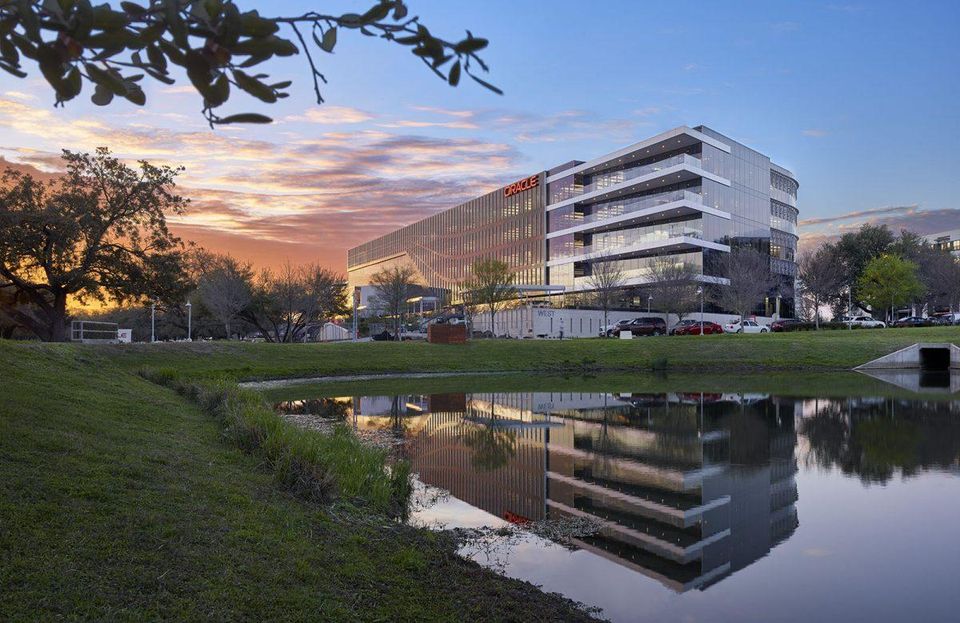 City of San Antonio (owner) / Ford Powell Carson (architect)
To improve public safety, the City of San Antonio unites the city's police and fire departments in one facility. San Antonio's new public safety headquarters administration building consolidates the administrative functions of the city's police and fire departments into a 240,000 square foot administrative building with adjacent 650-car, nine-level parking garage. The project, designed as LEED Silver, includes a vegetative roof, sunshades, and recycled water for irrigation. The parking garage includes priority parking for hybrid vehicles, as well as charging stations for electric cars and trucks. This project, along with the adjacent new federal courthouse, forms a new downtown government center.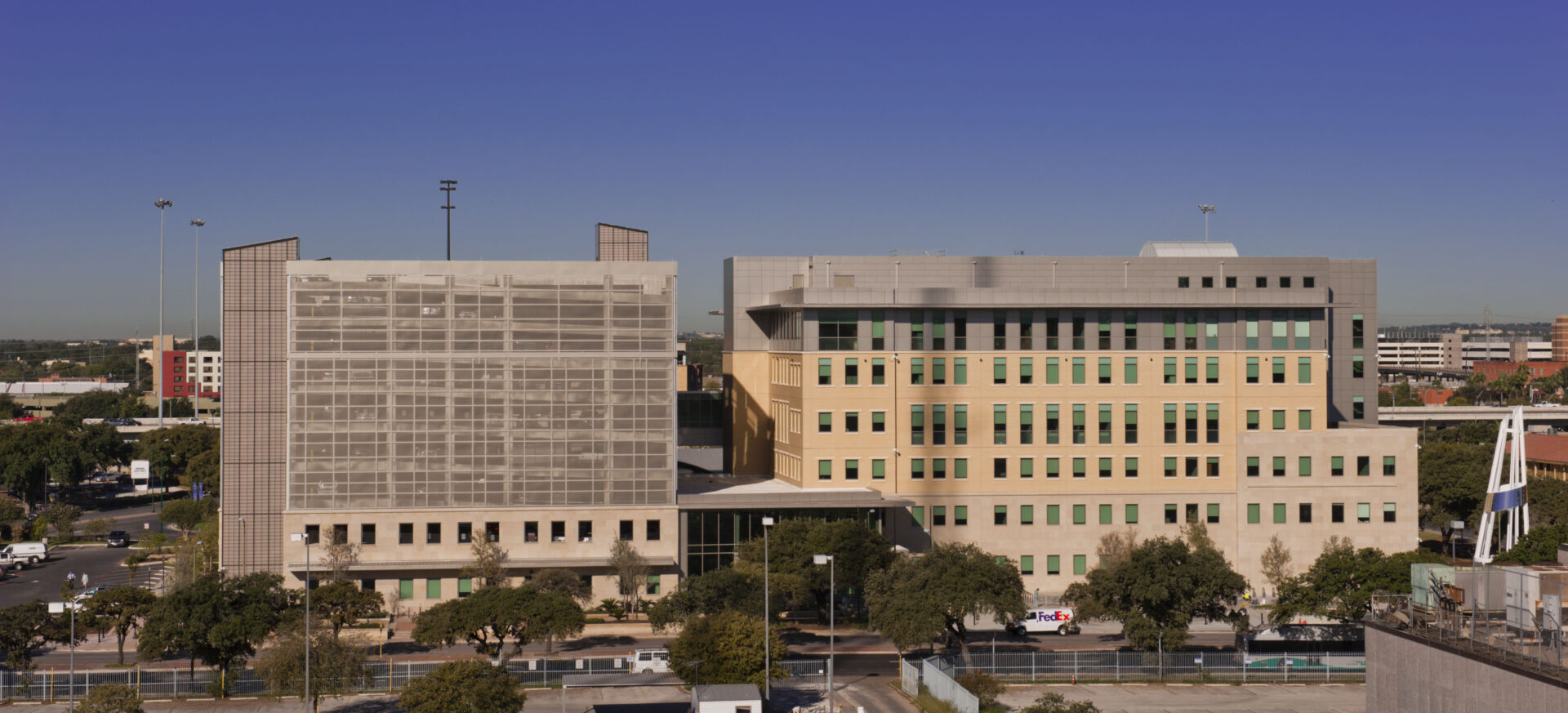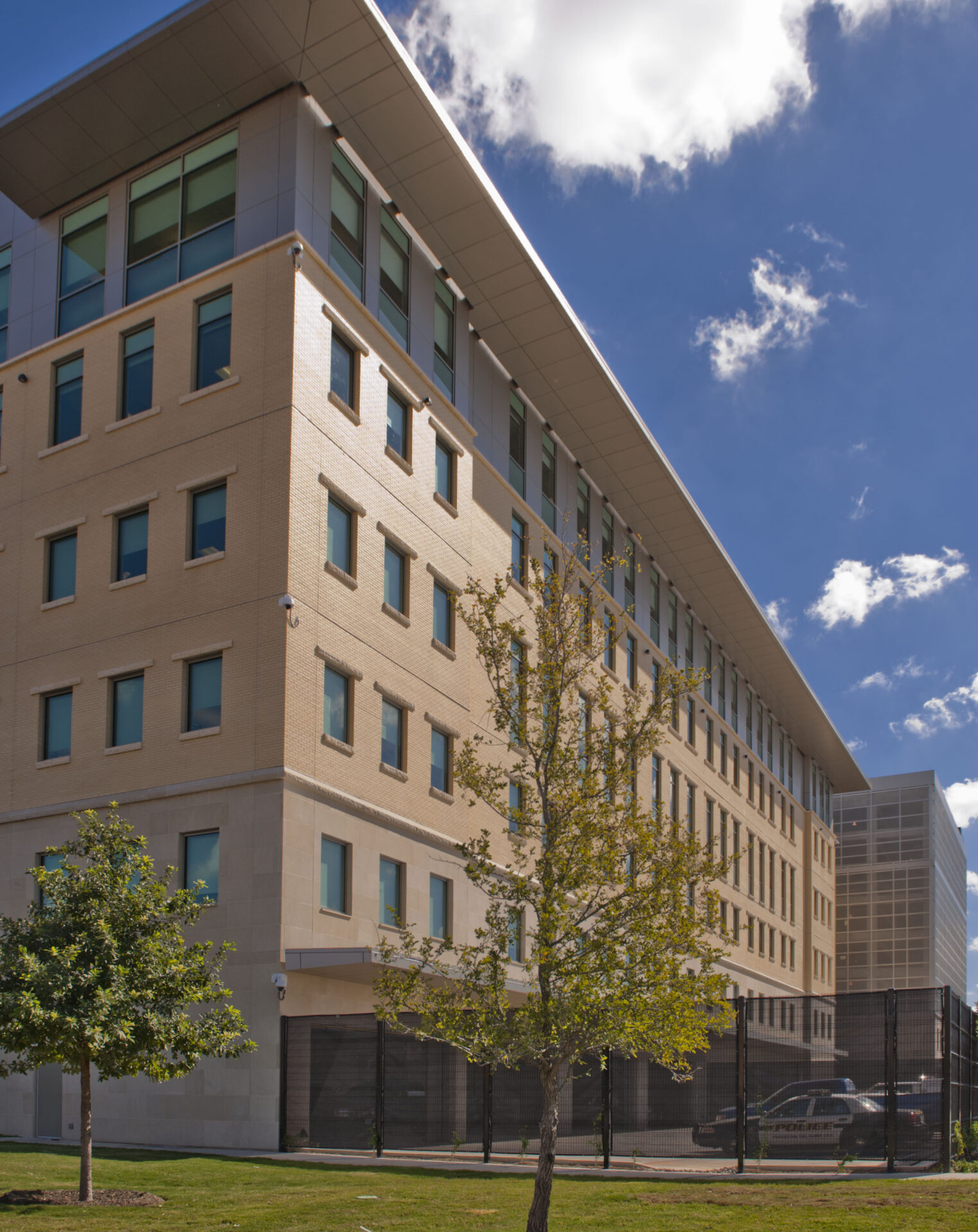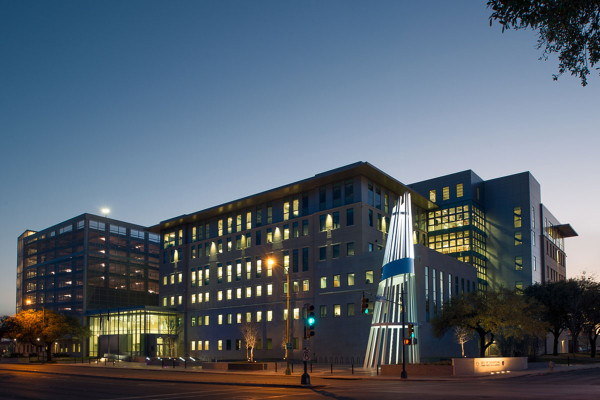 Hines (developer) / Pelli Clarke Pelli Architects (architect)
San Francisco, California
Tallest building in San Francisco, developed by Hines and design by Pelli Clarke Pelli Architects, Salesforce Tower is a 1,070-foot (326 meter), 80-story skyscraper providing 1.4 million square feet of commercial office space. Salesforce Tower will join the Golden Gate Bridge and the Transamerica Building as one of the skyline's defining elements.
Salesforce Tower connects directly to the Transbay Transit Center, which houses 11 Bay Area transit systems. On top of the Transit Center and linked directly to the Salesforce Tower is a 5.4-acre public park, offering a full array of recreational, educational, and nature activities. The park serves two purposes: to be the anchor of a new mixed-use neighborhood and to contribute to the project's remarkable commitment to sustainability.
Parking for the project consisted of three (3) below grade parking levels utilizing mechanical/stacked parking.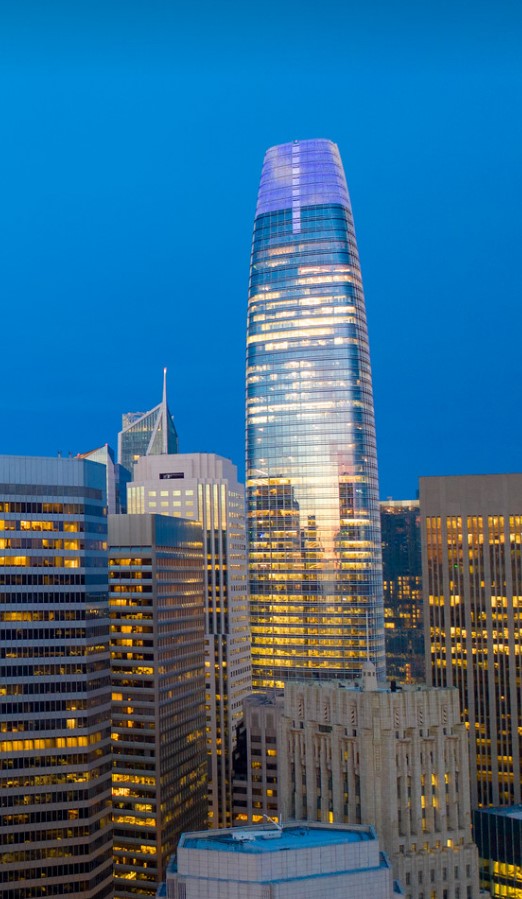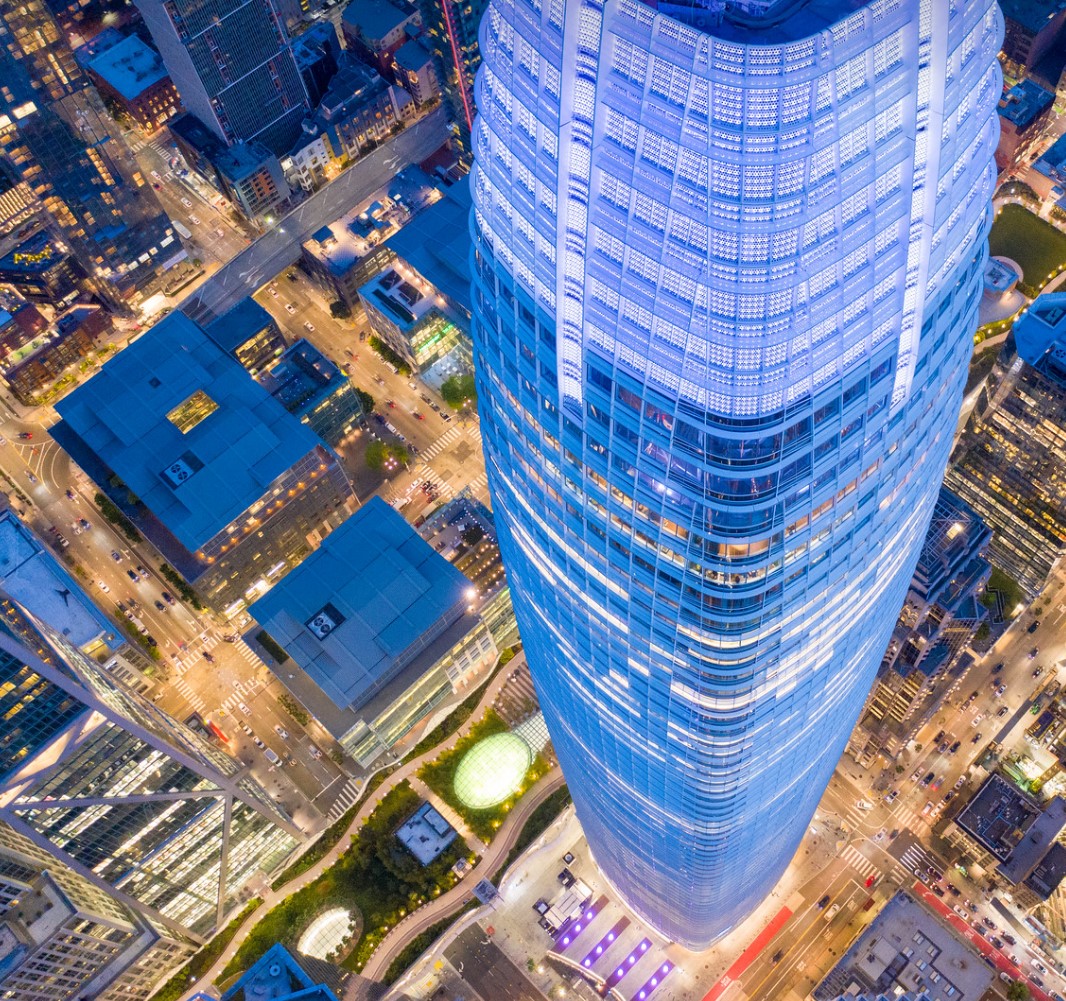 Hines (developer) / Robert A.M. Stern (architect)
Hines, in partnership with DLF Ltd., India's largest real estate company, developed an 11-acre site located on Golf Course Road in Gurgaon, India. The site is directly across from the DLF Golf Course and its residential community known as DLF Golf Links. Robert A.M. Stern Architects developed a master plan for the entire site as well as the design for the first phase of the complex, a major 25-story office tower of approximately 814,169 square feet together with ground-floor retail space and a large parking garage. In addition to the office tower, the master plan includes high-end retail shops, restaurant and entertainment venues and landscaped exterior public spaces. It also includes a second office tower. The total mixed-use complex includes approximately 2.5 million square feet of construction. The project was completed in 2014 and earned LEED® Platinum certification under the Indian Green Building Council's LEED India CS program in 2015.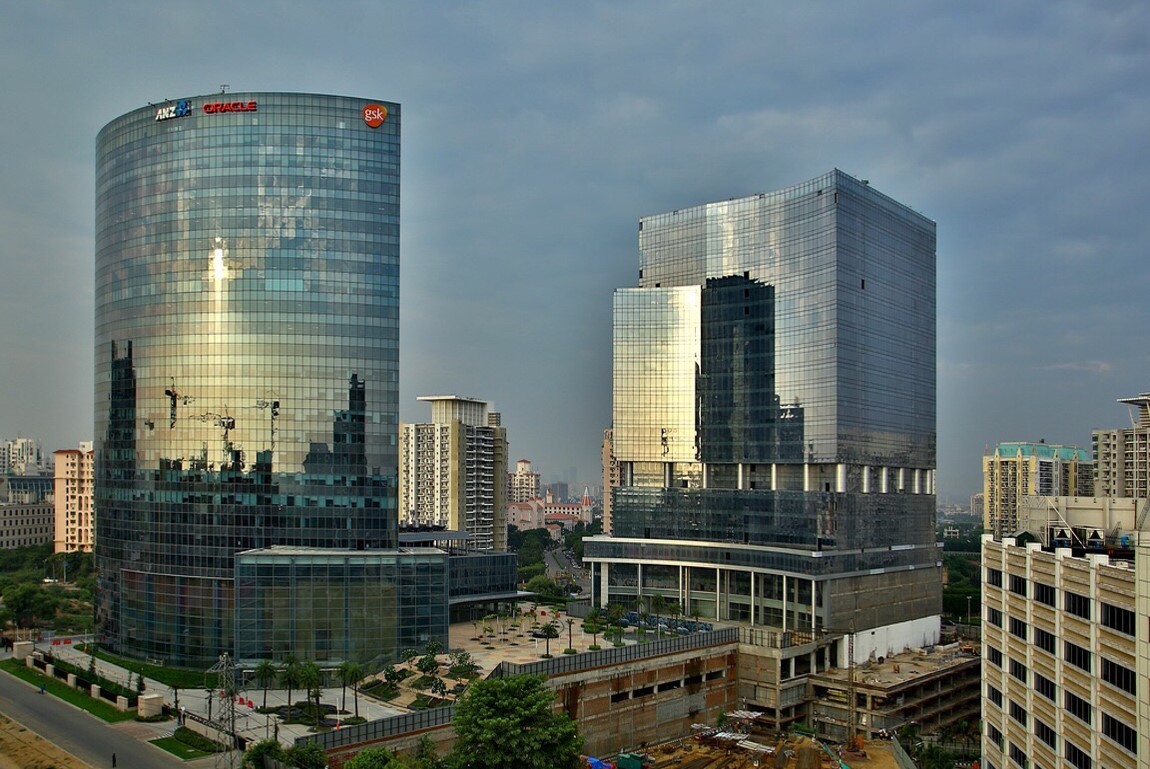 HWA Parking has experience providing efficient parking solutions for projects around the globe ranging from aviation to retail. Our focus on design solutions appropriate to the end user maximizes owner value and user experience.
Southwest Airlines Tech. Operations
Dallas, Texas
American Airlines Headquarters, Masterplan
Fort Worth, Texas
American Airlines Headquarters, Building 1-4, 6
Fort Worth, Texas
Park&Zoom
Austin, Texas
Bark&Zoom
Austin, Texas
Bogota Airport Cargo Administration Center
Bogota, Columbia
Covered Airport Parking
Panama City, Florida
State of Texas Capitol Complex
Texas Mall & Underground Garage
Austin, Texas
State of Texas Capitol Complex
George H.W. Bush State Office Building
Austin, Texas
State of Texas Capitol Complex
1601 Congress State Office
Austin, Texas
City of Lubbock City Hall & Police Headquarters Parking Facility
Lubbock, Texas
Austin FC Stadium
Austin, Texas
Alamo Museum & Visitors Center
San Antonio, Texas
Travis County Civil & Family Court Facility
Austin, Texas
Modern Art Museum of Ft. Worth
Fort Worth, Texas
City of San Antonio Brackenridge Park
San Antonio, Texas
City of Nashville Metro Library Expansion
Nashville, Tennessee
Texas A&M University Cain Hall
College Station, Texas
Austin Community College Highland Campus - South Parking Garage
Austin, Texas
University of Texas - University Medical Center
Austin, Texas
TMC3
Houston, Texas
El Paso Community College
El Paso, Texas
Bowie High School
Austin, Texas
Universidad de Monterrey
Monterrey, Mexico
Austin Community College Highland Campus Parking Masterplan
Austin, Texas
Amarillo College Masterplan
Amarillo, Texas
New Parkland Replacement Hospital
Dallas, Texas
Cox Health Campus Garage
Springfield, Missouri
TMC3
Houston, Texas
Texas A&M University Holcombe Campus
Houston, Texas
HCA Corporate Campus Garage
Nashville, Tennessee
The Surgery Center of River Oaks
Houston, Texas
University Medical Center - Brackenridge
Austin, Texas
Driscoll Children's Hospital
Corpus Christi, Texas
Methodist West Phase Two Garage
Houston, Texas
University of Texas - University Medical
Austin, Texas
Gaston Ave. MOB
Dallas, Texas
Memorial Hermann - The Woodlands
The Woodlands, Texas
Binz Medical Office Building
Houston, Texas
Fairmont Hotel
Austin, Texas
Museum Place Hotel
Fort Worth, Texas
Double Tree Hotel & Conference Center
Evansville, Indiana
Proper Hotel & Residence
Austin, Texas
City Center DC Hotel
District of Columbia
Manhattan Hilton & Conference Center
Manhattan, Kansas
The Domain Northside
Austin, Texas
Kirby Collection
Houston, Texas
Legacy West
Plano, Texas
Buffalo Speedway
Houston, Texas
St. Elmo Market
Austin, Texas
Westside Yards
Atlanta, Georgia
Broadway Station
Denver, Colorado
Northline
Leander, Texas
Watters Creek at Montgomery Farm
Allen, Texas
Westbrook Station
Calgary, Canada
Toyota North American Headquarters
Plano, Texas
American Airlines Headquarters
Fort Worth, Texas
State Farm Corporate Campus
Plano, Texas
Oracle Corporate Campus
Austin, Texas
Maple Terrace
Dallas, Texas
The Bowie
Austin, Texas
Museum Place Residence
Fort Worth, Texas
Symphony Square Residence
Austin, Texas
Oak Brook Commons Multi-Family
Oak Brook, Illinois
Broadway Station
Denver, Colorado
1200 Broadway
Nashville, Tennessee
The Finery Residential
Nashville, Tennessee
Seaholm Condos
Austin, Texas
Residences at The Mercantile
Omaha, Nebraska
Buffalo Speedway
Houston, Texas
1900 Crystal Drive
Arlington, Virginia
6X Guadalupe
Austin, Texas
The Domain Northside
Austin, Texas
Market Street
The Woodlands, Texas
Front St. District
Hartford, Connecticut
Whole Foods Market Midtown
Houston, Texas
Barranquilla Mall Parking Garage
Barranquilla, Columbia
Whole Foods Market Post Oak
Houston, Texas
Whole Foods Market Uptown
Dallas, Texas
Collection at Post Oak
Houston, Texas
Waters Creek at Montgomery Farms
Allen, Texas
Central Nissan
Houston, Texas
Midtown Cadillac
Houston, Texas